Pre-Season Schedule
Nov 14th 2:02PM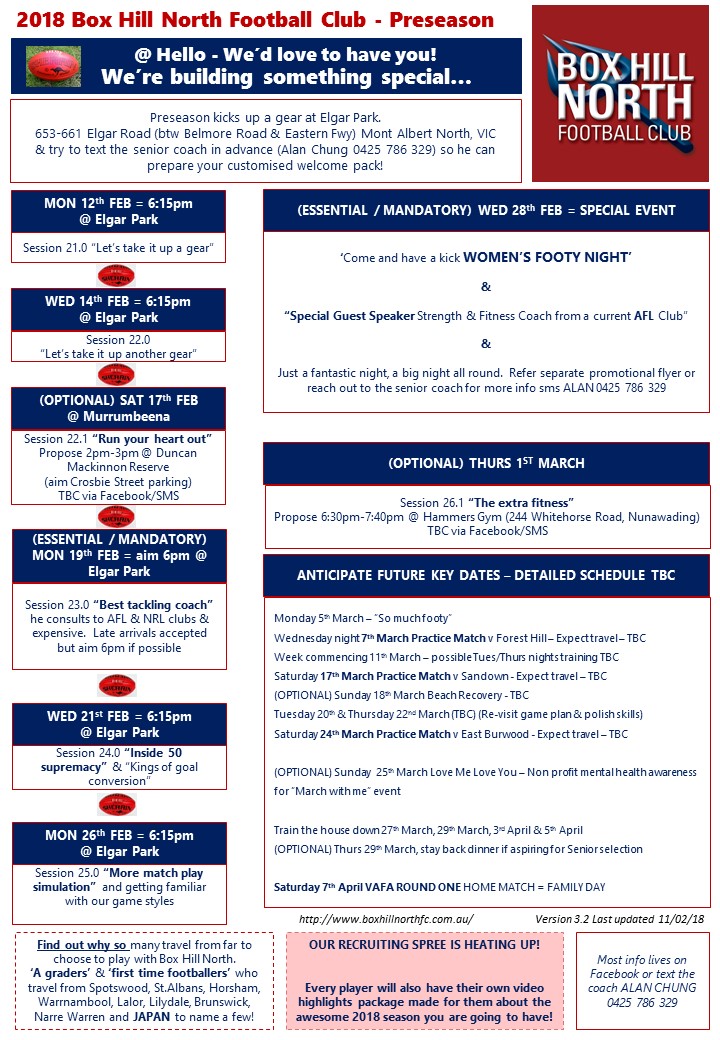 Coaching News!
Oct 19th 12:55PM
Box Hill North Football Club are very excited to welcome Alan Chung on-board as coach for the 2018 season. Alan immediately caught the attention of the coaching selection panel (Afrim, Laurie and Listo) with his eye catching coaching CV. We all thought that we MUST interview him! The 1st interview did not disappoint as we immediately saw that Alan was highly motivated, energetic and innovative. The subsequent interview, discussions and catch-ups we had with Alan have re-enforced what we all saw from the 1st encounter.
Alan has the full confidence of the committee and he is exactly what the clubs needs to move forward. We believe with your support he will help the club advance in leaps and bounds!
ALL ABOARD THE BOCKY TRAIN! 2018 WILL BE HUGE!
If anyone would like to chat with Alan feel free to give him a call on 0425 786 329 or email alan.chung.mobile@gmail.com
Presentation Night Results
Sep 25th 11:32AM
New Life Members
Dan Penny
Rhys Ball
Chris Langley
Best & Fairest
1st Eamon Stewart
2nd Cam Liston
3rd Dan Penny
Volunteer Appreciation Awards
Damian Hallinan
Tony Leonard
David Ball
Games Milestones
50 Games - Neal Crossan
50 Games - Michael Tilley
100 Games - Luke van dekn Akker
100 Games Coached - Laurie Zarafa
200 Games - Dan Penny
Other Awards
Best Defender - Scott Howe
Most Improved - Tom Cheslett
"Jo Cox" Most Courageous - Brendan Berechree
Best First Year Player - Josh Conway
Best Club Person - Cam Liston
Goal Kicking - Dan Penny
Best in Finals - Brenton Odza, Tom Cheslett
"Peter Armstrong" Coaches Award - Liam Camilleri
2017 Club XVIII (2) Premiers
Sep 11th 3:31PM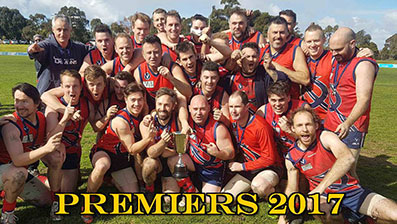 2016 Award Winners
Sep 20th 10:57AM
Senior B&F
Winner: Tom Canny (24 votes)
Runner-Up: Dean Templeton (23 votes)
Third: Rhys Mehlstaubler (18 votes)
Reserve B&F
Winner: Tony Manno (25 votes)
=Winner: Brendan Berechree (25 votes)
=Winner: Rhys Ball (25 votes)
Life Membership
Cam Liston
Ben Pearce

Other Awards
"Jo Cox" Most Courageous: Shannon Fisher
Best Clubperson: Alec Nyhuis
Best Defender: Scott Howe
Coaches Award: Liam Carey
Most Improved: Ryder Susman
Best in Finals: Ryder Susman
Best First Year Player: Tom Canny
Senior Goal Kicking: Dan Penny
Reserve Goal Kicking: Brad Magri-Olson
400 Games
Aug 30th 7:42PM
BHNFC would like to congratulate club legend Afrim Odza on being the first player to play 400 games for the club.
Afrim has played 23 seasons, won 3 B&Fs, been club Treasurer for 9 seasons and coached the reserves for 3 seasons.
Thanks Affy ... you're a legend!
Next