Recruiting 2017
Jan 18th 2:53PM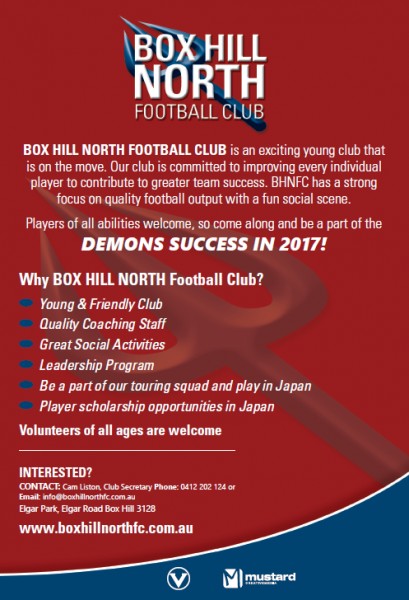 Welcome Schwaby!
Dec 19th 10:16AM
Box Hill North Football Club are delighted to announce Ken Schwab as our Senior Coach for the 2017 season!
Ken brings vast coaching experience and a great attitude to the job!
Ken has successfully coached Eley Park to 3 finals appearances in D4 (1 GF) and has been a highly successful under 19s/Senior Assistant coach at Old Camberwell.
BHNFC realise that this process has been a long one ... but the club has found the right person for the job!
If any player wants to chat with Ken please feel free to give him a call on 04 13 608 087.
Get on board … 2017 is going to be a BIG ONE!
Season 2017
Oct 17th 9:58AM
Round 1 2017 - 8th of April
2016 Award Winners
Sep 20th 10:57AM
Senior B&F
Winner: Tom Canny (24 votes)
Runner-Up: Dean Templeton (23 votes)
Third: Rhys Mehlstaubler (18 votes)
Reserve B&F
Winner: Tony Manno (25 votes)
=Winner: Brendan Berechree (25 votes)
=Winner: Rhys Ball (25 votes)
Life Membership
Cam Liston
Ben Pearce

Other Awards
"Jo Cox" Most Courageous: Shannon Fisher
Best Clubperson: Alec Nyhuis
Best Defender: Scott Howe
Coaches Award: Liam Carey
Most Improved: Ryder Susman
Best in Finals: Ryder Susman
Best First Year Player: Tom Canny
Senior Goal Kicking: Dan Penny
Reserve Goal Kicking: Brad Magri-Olson
Coaches Wanted for 2017 Season
Sep 5th 12:31PM
Box Hill North is seeking applications for senior coaching positions to help the club move forward in 2017


The ideal candidate will have:
- A proven track record.
- Minimum level one coaching accreditation.
- A network to recruit players (Can be Playing or Non-Playing).


Contact: Joan Linehan (BHNFC President) on 0411 365 257
400 Games
Aug 30th 7:42PM
BHNFC would like to congratulate club legend Afrim Odza on being the first player to play 400 games for the club.
Afrim has played 23 seasons, won 3 B&Fs, been club Treasurer for 9 seasons and coached the reserves for 3 seasons.
Thanks Affy ... you're a legend!
Prev