400 Games
Aug 30th 7:42PM
BHNFC would like to congratulate club legend Afrim Odza on being the first player to play 400 games for the club.
Afrim has played 23 seasons, won 3 B&Fs, been club Treasurer for 9 seasons and coached the reserves for 3 seasons.
Thanks Affy ... you're a legend!
Spring Osteo Sponsorship!
Jul 4th 6:04PM
Spring Osteo are thrilled to be supporting Box Hill North Football Club for this season. Seeing the players we've assisted get back on the ground after an injury or rehab is what excites us as osteopaths. BHNFC has become an integral part of our business and our community and we thank-you for your on-going support.
A reminder that we offer all players, friends and families that mention BHNFC $20 off your initial osteopathic treatment PLUS $10 for every subsequent osteopathic treatment goes towards the club. We see it as win-win for all parties and look forward to seeing all our hard work pay off on the field.
R.I.P Army
Jun 2nd 2:18PM
It is with our deepest sorrow that BHNFC inform you of the death of our beloved life lember, former coach, mentor and friend Peter 'Army' Armstrong.
Peter coached the senior team for a record 10 seasons and left an indelible mark on all those he coached.
BHNFC wish to extend our condolences to Peter's wife Kerrie, his daughter Antoinette and the entire BHNFC family.
R.I.P Army .. you will be missed.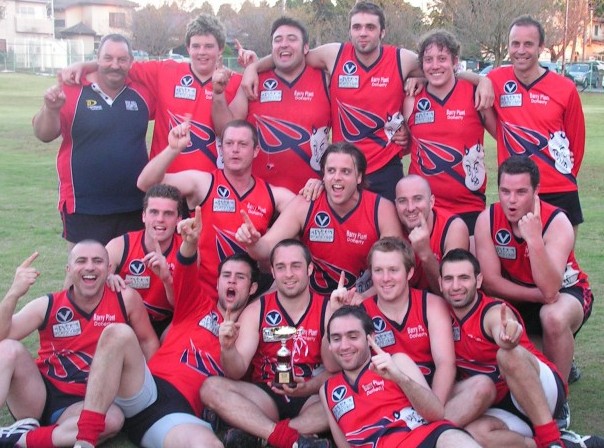 Vale Rod Pitt
Feb 15th 2:07PM
BHNFC wishes to extend it's deepest condolences to Rodney Pitt's family and friends on the passing of Pitty.
Pitty was a Premiership Player in our 1991 team.
He was named ruckman in The Team of the Century.
A great mark & an excellent tap ruckman he also knew where the goals were when needed.
Pitty was definitely a true character of our club & always had a smile for everyone.
He will be sadly missed by his old team mates & friends @ BHNFC.
Vale Rodney ... you gave us Spicks & Specks of your life.
Position Vacant
Jan 18th 12:39PM
Are you interested in being part of a grass roots football community?

Box Hill North Football Club is looking to appoint a reserves umpire for the 2016 season.

For any enquiries please contact Joan Linehan on 04 11 365257
2015 Award Winners
Sep 21st 5:33PM
Senior B&F: M. Tilley
Runner Up: D. Liistro
Third Place: C. Liston, S. Donovan, D. Penny

Reserves B&F: J. McDevitt
Runners Up: R. Susman, T. Wood, B. Berechree, T. Manno

Senior Best in Finals: M. Tilley
Reserves Best in Finals: N. Nolan

Senior Best Defender: R. Lawrence
Reserves Best Defender: T. Wood

Senior Goal Kicking: D. Penny
Reserves Goal Kicking: R. Ball, B. Magri-Olson

Most Improved: J. Howarth
Best First Year Player: N. Lang
Coaches Award: B. Kirk
Jo Cox Most Courageous Award: B. Berechree

Best Clubman: D. Linehan
Prev