2007 Narita Cup *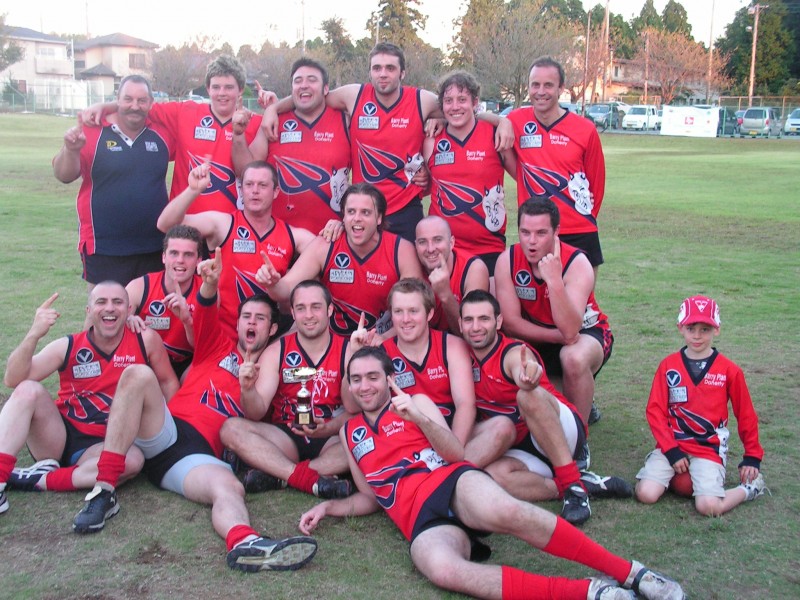 Winners: Box Hill North
Runners up: Tokyo Goannas

October 11th, 2007

Highlights of our Championship run. Lance kicked 19 goals for the day while spending a good deal of the time in the ruck. Dan a similar number and played on ball. Luke P broke his finger badly in the second game but did not miss any game time to be a real star. Crazy took on and outSMARTED the best ruckman outside BHN at the tournament. Not happy to just to gain respect for his team play, he then smashed a point post to possibly win some cash on Almost Footy Legends. PC took too many hangers to count. Josh pulled the special goal out, with twists and turns on the boundary. Westy's long bombs from full back had the crowd in awe. Pinder was collecting more crumbs up forward than pigeons at Nelson's Column; pity about the 4 goals 7pts though.

Arch saved a certain goal with a karate move and Tugger had some trouble with kicks and handballs as exhaustion set in late.

Kotsa did a calf muscle in the pool after training on the Thursday. Was all set to play no part on field though was instrumental as ass. coach. Got the call with 10 to go in the Grand Final to put the jumper on and get out there. Got 2 possessions before Mick set him up with a shot from 15 dead in front as the siren was to blow. A fitting finale for our new Prez and 3 time runner up skipper at Narita. All cameras were trained to catch the crowning moment. Then with all his skill and might, Pete shanked it waist high through the middle of the points.